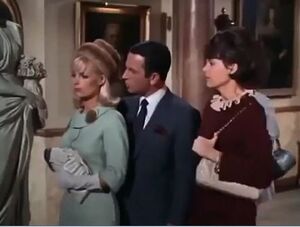 Princess Ingrid of Scandinavia (also at one point called 'Miss Svensson') is in Washington in 1965 for her annual visit. When it is feared that she has been targeted for kidnapping by the evil Oriental arm of KAOS, Maxwell Smart and Agent 99 are assigned to protect her.
Max had met the princess five years earlier while her father was in the U.S. to address the United Nations General Assembly. Max recalls her then as a "sweet, freckle-faced fifteen-year-old". Five years on, her amorous attitude toward him and her determination to "have some fun" give 99 cause for jealousy.
Portrayed by Inger Stratton [Episode #2: "Diplomat's Daughter"].
Ad blocker interference detected!
Wikia is a free-to-use site that makes money from advertising. We have a modified experience for viewers using ad blockers

Wikia is not accessible if you've made further modifications. Remove the custom ad blocker rule(s) and the page will load as expected.