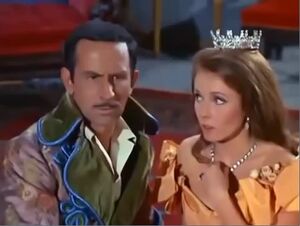 Betrothed of King Charles IX of Caronia.
Marta is the daughter of the King of Esterhagen, Duchess of Boravia, lady-in-waiting to the Dowager Queen of Liechtenstein, heiress apparent to the Barony of Lowengrau, grand-niece to the Duke of Graustark, first cousin to the Count of Montevideo and third cousin once removed to the Bürgermeister of Cammembrau.
Marta is unaware that her "fiancé" has temporarily been replaced by his double, CONTROL agent Maxwell Smart, when the two have a romantic encounter. Later, after she learns the truth, Max asks her to leave with him but she refuses as it is her duty as a princess to remain in Caronia and marry Charles. [Episode #74: "The King Lives?".]
However, when King Charles visits Washington the following year he is still single [Episode #107: "To Sire, With Love, Part 2"].
Portrayed by Judith McConnell [Episode #74: "The King Lives?"].