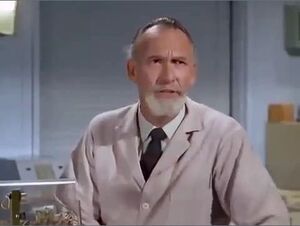 CONTROL scientist who lives a bohemian lifestyle and writes the comic strip The Girl from Galaxy as a cover. Professor Longnecker is reputed to be CONTROL's, perhaps the world's, greatest inventor.
Due to the importance of his work his laboratory is under continuous guard. However, KAOS is able to poison him by means of a container of coffee purchased from a restaurant they kept in business for over a year just to get to him.
As he is dying, Longnecker makes the shock confession that all his inventions were stolen from another - a genius he calls "Dr. T".
Portrayed by Craddock Munro [Episode #73: "The Mysterious Dr. T"].
Ad blocker interference detected!
Wikia is a free-to-use site that makes money from advertising. We have a modified experience for viewers using ad blockers

Wikia is not accessible if you've made further modifications. Remove the custom ad blocker rule(s) and the page will load as expected.