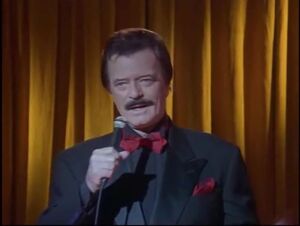 Internationally renowned singer and actor impersonated by CONTROL Agent 0 when posing as a singer in the lounge of the KAOS-owned casino run by Carlo Monte in Las Vegas.
In this guise Agent 0 sings a warning to Chief Maxwell Smart that his life is in danger (to the tune of "Mack the Knife") but Max would rather hear Goulet's signature "If Ever I Would Leave You" from Camelot.
[In this sequence Agent 0 is portrayed by Robert Goulet himself, GS95 Episode #2: "Casino Evil".]
Ad blocker interference detected!
Wikia is a free-to-use site that makes money from advertising. We have a modified experience for viewers using ad blockers

Wikia is not accessible if you've made further modifications. Remove the custom ad blocker rule(s) and the page will load as expected.