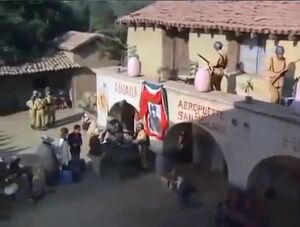 Latin American country ruled by the ruthless dictator General Diablo Pajarito.
When CONTROL agents Maxwell Smart and 99 arrive to rescue Don Carlos, the rightful presidente, from prison, they find a country where all landmarks and institutions seem to be named "Pajarito" and executions by firing squad are frequent and public - including that of Lucky Francisco, the winner of the National Lottery, who was shot because "that is the first prize".
[Episode #61: "Viva Smart".]
Ad blocker interference detected!
Wikia is a free-to-use site that makes money from advertising. We have a modified experience for viewers using ad blockers

Wikia is not accessible if you've made further modifications. Remove the custom ad blocker rule(s) and the page will load as expected.