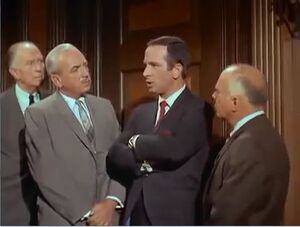 Member of a Senate Investigating Committee examining CONTROL's budget.
When the committee's chairman, Senator Dietrich is exposed as a KAOS agent, he attempts to take Senator Harper hostage as a means of escaping, but Maxwell Smart tells him it won't work "because Senator Harper is not up for re-election".
[Uncredited, Episode #48: "Cutback at CONTROL".]
Ad blocker interference detected!
Wikia is a free-to-use site that makes money from advertising. We have a modified experience for viewers using ad blockers

Wikia is not accessible if you've made further modifications. Remove the custom ad blocker rule(s) and the page will load as expected.