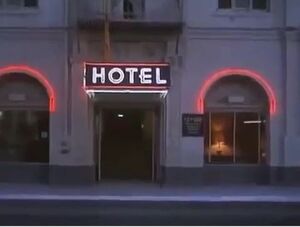 Washington hotel where a KAOS courier is spotted staying. This information is crucial as tracking the courier's movements may lead to the location of KAOS's new headquarters [Episode #119: "And Baby Makes Four"].
The following year, former CONTROL trainee and suspected murderer Adrian Listenger is reported to be registered at the Senator Hotel but when Maxwell Smart, the Chief and insurance investigator "Ace" Weems get there the hotel manager, Tuttle, informs them that Listenger is dead [Episode #130: "The Mess of Adrian Listenger"].
Ad blocker interference detected!
Wikia is a free-to-use site that makes money from advertising. We have a modified experience for viewers using ad blockers

Wikia is not accessible if you've made further modifications. Remove the custom ad blocker rule(s) and the page will load as expected.