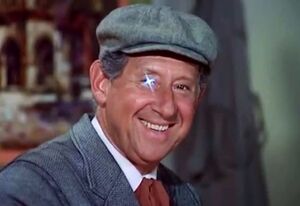 "It always takes Simon the Likable a little bit longer to go someplace than the average person...[P]eople stop him to shake his hand, embrace him, kiss him." - KAOS agent Kruger.
KAOS's "most irresistible agent". As the Chief explains it, "a man so unassuming, so modest, so sweet and warm that you take one look at him, and you like him."
Nonetheless, Simon the Likeable remains capable of all the wicked and evil acts that one expects of a KAOS agent, for instance freely admitting in a London court to grand larceny, forgery, espionage, extortion, counterfeiting, smuggling, and assault with a deadly weapon. Yet, to the cheering of onlookers, the judge on the case finds him Not Guilty!
The only one able to resist his sparkling smile and twinkling eyes is 99's mother who knocks him out with a right cross punch to the jaw - because he resembles her late and unlamented husband!
Portrayed by Jack Gilford [Episodes #119 & 120: "And Baby Makes Four" & "And Baby Makes Four, conclusion"].