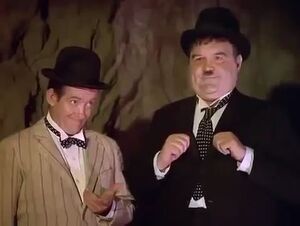 Beloved English comedian best known for his work in partnership with Oliver Hardy.
Figures of Laurel and Hardy, looking somewhat out of place among the grotesqueries of Duval's Cave of Wax, are brought to life by the operator Raoul Duval by means of his injectable serum and ordered to eliminate Maxwell Smart who has infiltrated the museum in the guise of a wax Adolf Hitler.
As befits their personas, the duo prove incapable of the task, failing to recognize Max when they see him, and are replaced in their efforts by a figure of W.C. Fields.
Wax figure of Stan Laurel portrayed by Jim MacGeorge [Episodes #127: "House of Max" and #128: "House of Max, conclusion"]. For more on the real Stan Laurel see the Wikipedia article.