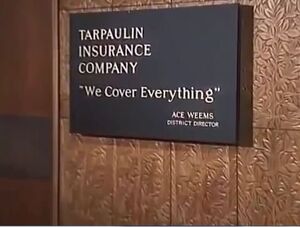 Company which held the life insurance policy on deceased CONTROL agent Randolph, the sixth in a string of agents to die in unusual circumstances.
Maxwell Smart and the Chief are called in by district director "Ace" Weems who informs them that the deaths were not accidents, that all were former members of the CONTROL Training School baseball team and were murdered.
The culprit is deemed to be Adrian Listenger, a former CONTROL trainee and catcher on the team, seeking revenge after being forced to drop out of the spy school because one of the team members reported that he had cheated on a test.
Little do they realize that Weems is in fact Listenger, his appearance altered by means of a self-performed nose job and a change in hairstyle.
[Episode #130: "The Mess of Adrian Listenger"].