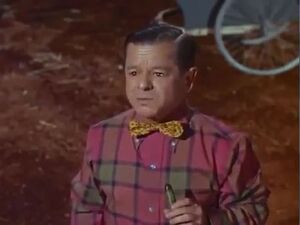 Midget at the Farnum and Daley Circus.
Tiny Allen is killed just before he is to reveal information to Max and 99 who are investigating the circus.
Portrayed by Billy Curtis [uncredited, Episode #40: "The Greatest Spy on Earth"].
Ad blocker interference detected!
Wikia is a free-to-use site that makes money from advertising. We have a modified experience for viewers using ad blockers

Wikia is not accessible if you've made further modifications. Remove the custom ad blocker rule(s) and the page will load as expected.