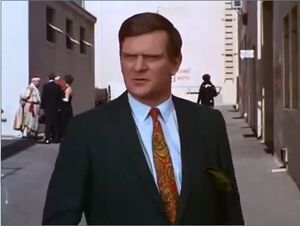 "I don't know anything."
— T. B. Orlando
Employee at Panamint Studios in Hollywood.
Max and 99 travel to Hollywood to interview Orlando when they find his name written on a wall next to a telephone at the Three Brothers Omniwash laundromat and believe that he may be the "TBO" in the note written by the wounded Russell Bediyoskin.
Orlando clearly knows more than he lets on but is killed before he can reveal the true meaning of the mysterious initials.
Portrayed by Kenneth Mars [Episode #60: "A Man Called Smart, Part 3". Note that although he is listed as "Tom Orlando" in the credits, he is referred to only as "T. B. Orlando" in the episode itself.]
Ad blocker interference detected!
Wikia is a free-to-use site that makes money from advertising. We have a modified experience for viewers using ad blockers

Wikia is not accessible if you've made further modifications. Remove the custom ad blocker rule(s) and the page will load as expected.