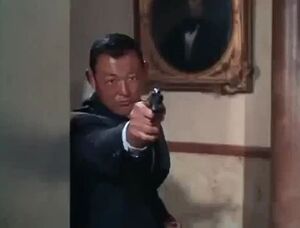 Member of the Oriental Arm of KAOS and henchman to The Claw.
Toto is shot by Maxwell Smart while attempting to abduct the visiting Princess Ingrid of Scandinavia.
He also presumably carried out the earlier kidnappings of eight other girls abducted by mistake because, as the Claw explains, "all Americans look alike to us".
Note that although the name "Toto" appears in the credits, it is not used in the episode itself.
Portrayed by Bill Saito [Episode #2: "Diplomat's Daughter"].
Ad blocker interference detected!
Wikia is a free-to-use site that makes money from advertising. We have a modified experience for viewers using ad blockers

Wikia is not accessible if you've made further modifications. Remove the custom ad blocker rule(s) and the page will load as expected.