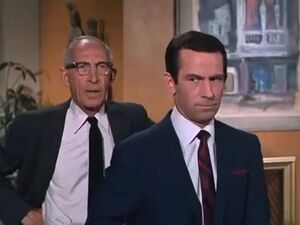 Uncle Abner: "We better help [Max]. After all he is your sister's son."
Aunt Bertha: "My sister's son? I thought he was your sister's son."
Uncle Abner: "I don't think so. I hope not."
Relative of
Maxwell Smart
, married to
Aunt Bertha
.
If you're thinking of buying him a Christmas present, Uncle Abner's favored shoes are black Oxford 9C.
Portrayed by Charles Lane [Episode #12: "My Nephew the Spy"].
Ad blocker interference detected!
Wikia is a free-to-use site that makes money from advertising. We have a modified experience for viewers using ad blockers

Wikia is not accessible if you've made further modifications. Remove the custom ad blocker rule(s) and the page will load as expected.