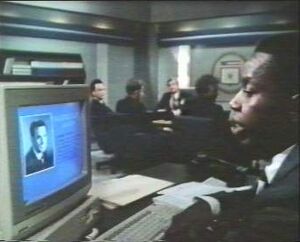 Spy agency headquartered in Washington DC under the leadership of Commander Drury.
Major Preston Waterhouse is the No. 2 man. Other agents include Merriweather, Drury's aide Beamish and support staffers Dr. Denton and Dr. Godivar.
Although evidently now the nation's pre-eminent spy agency, being contacted directly by the president, when faced with the re-emergence of the long-dormant KAOS organization Commander Drury recognizes that the USIA lacks the expertise to combat the threat and does the only thing he can do - recall former CONTROL agent Maxwell Smart to active duty.
[TV Movie: "Get Smart, Again!"; Security operator portrayed by Willard E, Pugh (uncredited)].