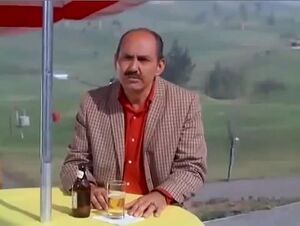 KAOS agent who is the manager of the Pomona National Golf Club.
When it is learned that KAOS is planning to blow up an aerospace center adjoining the club, suspicion at first falls on the club's pro, Chuck Cramer, who was also the pro at the Pinewood Country Club and the Cedarwood Country Club, both of which also adjoined space centers which were destroyed by KAOS.
Investigation reveals that Upjohn (using different identities) was also the manager of those clubs and is in collusion with Cramer.
Portrayed by Irwin Charone [Episode #104: "I Shot 86 Today"].
Ad blocker interference detected!
Wikia is a free-to-use site that makes money from advertising. We have a modified experience for viewers using ad blockers

Wikia is not accessible if you've made further modifications. Remove the custom ad blocker rule(s) and the page will load as expected.