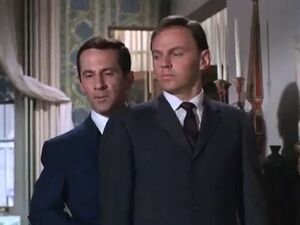 For other Victors, see the "Victor (disambiguation)" page.
---
KAOS agent whose cover is a salesman at Larsen's Shoe Store.
Hijinks ensue when Victor follows Maxwell Smart home to his apartment and Max tries to capture him without revealing his own occupation to his visiting Aunt Bertha and Uncle Abner.
Portrayed by Conrad Janis [Episode #12: "My Nephew the Spy"].
Ad blocker interference detected!
Wikia is a free-to-use site that makes money from advertising. We have a modified experience for viewers using ad blockers

Wikia is not accessible if you've made further modifications. Remove the custom ad blocker rule(s) and the page will load as expected.