"Dietrich" redirects here. For other uses see the Dietrich (disambiguation) page.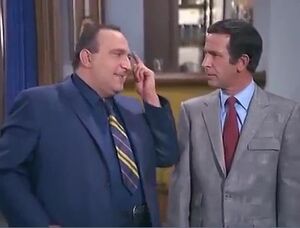 Highest-ranking KAOS agent ever to defect.
When CONTROL learns that the deadly assassin known as The Exterminator has been sent to eliminate him before he can testify, Dietrich is taken into hiding, transported by fire engine to Maxwell Smart and 99's apartment where he is forced to disguise himself as Mrs. Feldman, the woman employed to help take care of the Smarts' twin babies.
While the charade is cause for some embarrassment, it proves no barrier to the Exterminator who soon locates him and makes a number of attempts on his life, each one foiled (mostly accidently) by Max, only to have Dietrich rendered amnesiac (and therefore his testimony lost) by a piece of falling masonry dislodged by Max's untimely firing of a sub-machine gun after the final shootout.
Portrayed by Fabian Dean [Episode #131: "Witness for the Execution"].