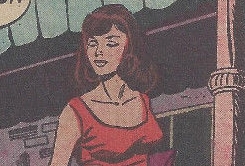 Egyptian KAOS agent who travels in the guise of a "tummy-tosser", a euphemism for belly dancer.
Zula is appearing as the chief attraction at a convention of bald-headed men in Atlantic City where Max and 99 are searching for a KAOS agent believed to have a secret code tattooed on his scalp. When Max suspects that Zula is wearing a wig he plants a wad of chewing gum in her hair to "prove it one way or the other".
[Comic Story #1: "The Hairless Hound Caper".]
Ad blocker interference detected!
Wikia is a free-to-use site that makes money from advertising. We have a modified experience for viewers using ad blockers

Wikia is not accessible if you've made further modifications. Remove the custom ad blocker rule(s) and the page will load as expected.